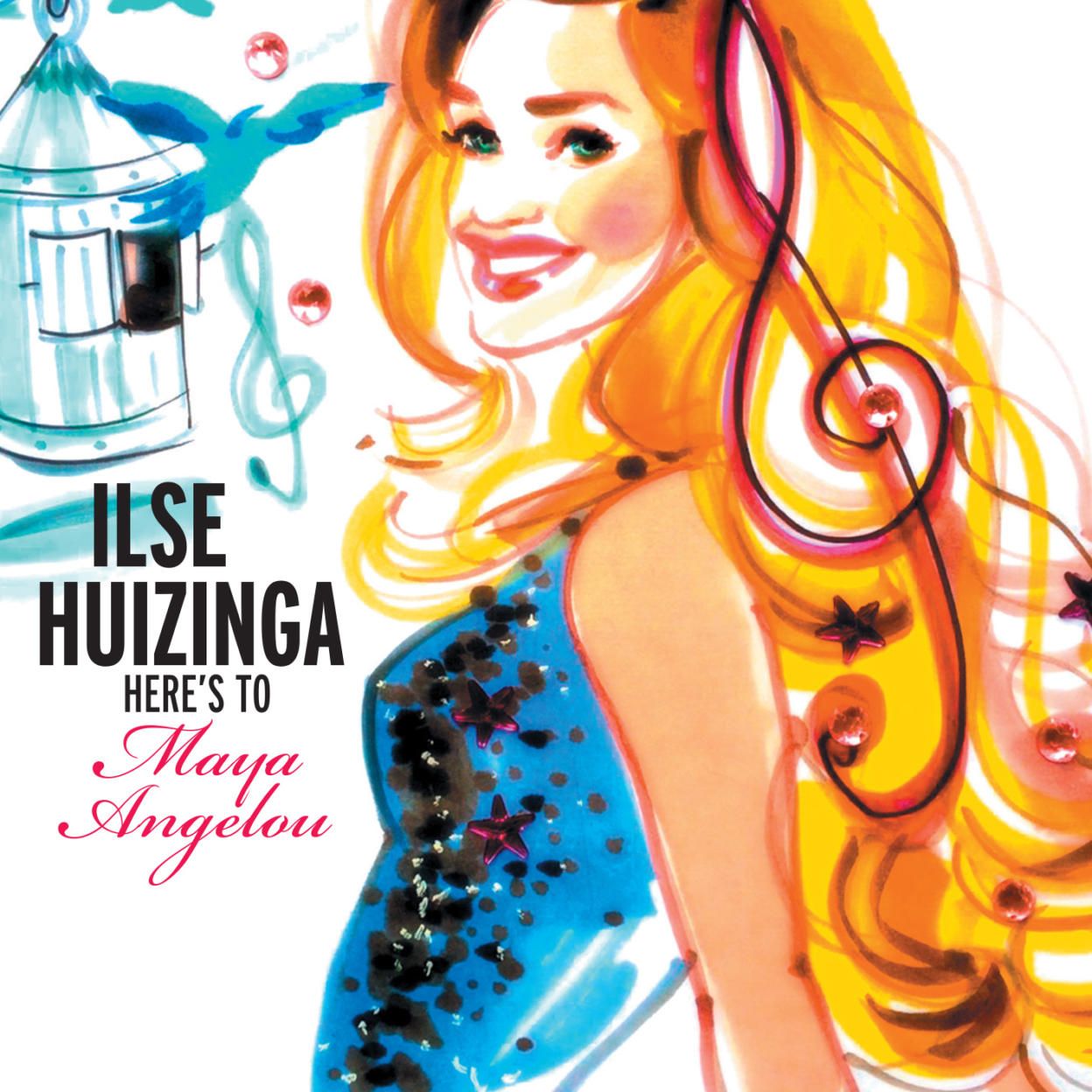 ILSE HUIZINGA – Here's to Maya Angelou
Daybreak
DBCHR 75223
0608917522327
When American writer & poet Dr. Maya Angelou passed away in 2014, Ilse discovered her extensive work of poetry. The mood, the tone and the strength of her poems touched her deeply, and many of them seemed like natural lyrics to Ilse. Maya Angelou found the words we seek to express and depict love, loss, hope and confidence. Her poems center on themes such as racism, identity, travel and love. The power of her words are still very perceptible and relevant to all of us, it seemed to Ilse.
She began to collect the poems that resonated with her and that she felt most connected to. Within a few days, Ilse asked Erik to put Maya's words to music for her. Maya's relatives granted their approval after having heard the work. 'Here's to Maya Angelou' is not just a tribute to Dr. Maya Angelou's work, it's a tribute to her philosophy as well: inspiring humanity to do better and each and every one of us to thrive.
"Amsterdam siren Ilse Huizinga perfectly seasons the sentiment and gravity of these rare songs. Virtuosity brims from this recording." Allaboutjazz.com, USA
"With ms Huizinga singing beautifully and Van der Luijt's trio swinging, this is a particularly successful "jazz and poetry" set, one that often sounds playful and celebratory. Both the power of Maya Angelou's words and the jazz talents of Ilse Huizinga and her musicians come through well on this worthy project." Los Angeles Jazz Scene, USA
"Passionate, compelling & hip." Jazzism
"Beautiful, exquisite & well-balanced." Jazzenzo.com
"Versatile, attractive & beautiful vocals." Peek-a-Boo Music Magazine, Belgium
"Colorful, expressive & intimate." Fullmoonzine, Czech Republic
"Astonishing, electrifying & dynamic." Nadelunch.com
Contains 12 original songs based on the following poems by Dr. Maya Angelou:
Caged bird
Equality
My life has turned to blue
Song for the old ones
Willie
The gamut
Call letters: Mrs. V. B.
Woman work
Poor girl
Here's to adhering
Human family
Phenomenal woman
All music composed by Erik van der Luijt – Cover art by Astrid Vos – Ilse Huizinga: vocals – Erik van der Luijt: piano – Erik Robaard: bass – Joost Kesselaar: drums
The album is available through most physical and digital music stores.
 Other albums (all containing jazz standards):
Out of a Dream (1997)
Voices Within (1999)
The Sweetest Sounds (Challenge / Daybreak, 2001)
Easy to Idolize (Challenge / Daybreak, 2003)
Beyond Broadway (Maxanter Records, 2005)
The Club Sessions (for Japan only, 2006)
The Intimate Sessions – Volume 1 (Brilliant Jazz / Foreign Media Music, 2006)
Reviews & quotes
"All the hallmarks of an international diva in the making" – Armand Serpenti, Trouw
"A nightingale with a golden voice. She sings sensual jazz with a modern tinge" – Cosmopolitan
"A voice of which other singers only dream; full, clear and sensitive. With this golden voice she sings the wonderful arrangements of Erik van der Luijt" – Nouveau
"A singer with a marvellous, beautiful voice and an interpretation all her own" – Marie Claire
"Wonderful repertoire, great arrangements, excellent musicians and a singer with a beautiful, strong voice" – Greetje Kauffeld
"Ilse Huizinga is an astonishing jazz talent" – Willem Duys, AVRO Radio
"One of the strongest of the new generation of Dutch jazz singers. In the title song we get genuine coloratura, in This Can't Be Love she manages to fit entire octaves into a single syllable – great that the poignant lyrics meanwhile never suffer." – De Volkskrant
"Clear and pitch-perfect voice, an original colouring of Rodgers' songs" – De Gooi- en Eemlander
"Ilse adds a whole new magic to the songs of Rodgers." – Elegance
"Ilse Huizinga… a superb vocal treat." Emyr Williams, BBC Radio
"Ilse Huizinga is likely to take Europe by storm, maybe even by hurricane" – Florian Stenschke, Jazz Radio Berlin
"Ilse really dares to let herself go, approaching everything with remarkable ease and above all with a consistently wonderful jazzy sound." – Kees Polling, Trouw
"Delicious late-night listening" – Expatplus
"Huizinga has a powerful, mature – and above all also warm and beautiful – voice which is superbly versatile. She bends and stretches it to her liking. A tender ballad or an upbeat song; either she shows to their full advantage. Fearlessly, she encounters her vocal boundaries. Ilse combines guts with innovation, dances right on key across half interval runs and presents the lyrics with such integrity, such conviction that she has already captured the listener's ear. In this self assurance great singers distinguish themselves from the endless numbers of so-called great talents" – Jan Rensen, De Gooi- en Eemlander
"Very promising. Her wordless introduction to the song The Old Country sounds so magnificent, it's like an angel descending from heaven. Ilse's voice is perfect. Her delivery is exceptional in the way she treats dots and comma's in an unexpected manner…" – Ruud Kuyper, Algemeen Dagblad
"With this second production the singer and the pianist/arranger manage, if anything, to amaze even more. The warm, sexy voice and the once again outstanding selection of tried and tested standards can be enjoyed in yet another new approach. Ilse has ingeniously dubbed her own voice and this has resulted in sublime multi-vocal jazz. The intro for five voices of Almost Like Being In Love is comparable to the best close harmony since the legendary Singers Unlimited, who gained a reputation in the Seventies using the very same technique." – Imme Schade van Westrum, AVRO Radio
"A singer with a wonderful voice, a wonderful band and wonderful arrangements. Ilse is anything but a clone, possessing an instantly recognisable sound. She sings one hell of a lot fuller and more convincingly than many an American diva launched with clever marketing hype." – Jeroen de Valk, Het Parool
"Ilse Huizinga has a very pleasant presentation and a beautiful voice with an outstanding technique and diction. Moreover, she dares to take chances. Upbeat or slow songs, songs that seem easy or songs that require some virtuosity; she handles all with remarkable ease" – Trouw
"Beautiful and flexible voice, wonderful arrangements" – Tubantia