"Ilse is an absolute expert and Jazz Singers Academy highly recommended!"
Sheila Jordan
SHEILA JORDAN IS A VOCAL JAZZ LEGEND & A PIONEER OF VOCAL JAZZ IMPROVISATION
Learn to sing jazz at Jazz Singers Academy!
Love to sing jazz? Love listening to Ella, Sarah and Frank?
Wonder if it's something for YOU? If it's something you can do convincingly?
Well, if you want to learn from scratch, brush up your skills or want to prepare for a professional career –
My courses are for you, so you can:
sing jazz (even) better
learn how to improvise
teach others how to do it
perform with confidence and ease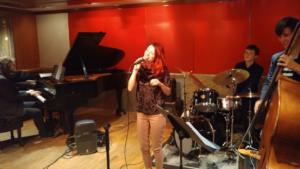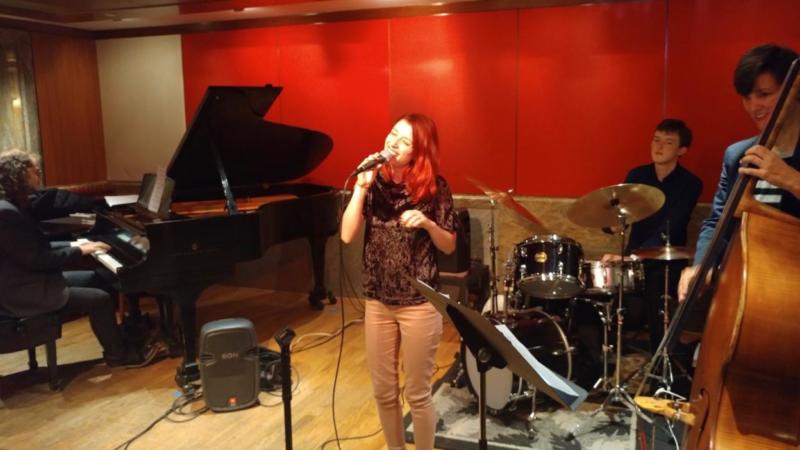 The Benefits
Jazz Singers Academy provides hours of inspiration and encouragement. Basically, everything a jazz singer needs to know, be aware of, and practice.
Expert guidance
Never get lost. With clear structured guides on every vocal jazz topic. The easiest way to quickly find your way.
FOR ALL LEVELS
And it's for all levels. Really? Yes!
I have been coaching singers for over … ahem… 25 years – and there are no definitive levels in my opinion. How do you distinguish exactly? What is a great singer? What is a starting singer?
We all know people who have a beautiful voice but may be messy with their timing or pitch. Or we know great singers, who sing the same variations over and over again. Thing is, if you want to grow as a singer, you need tools. Exercises. Hours of simply exercising. But what, and how?
That's where I come in 🙂 With structured guides on every vocal jazz topic and hours of tailor-made sing-along exercises, you simply can't go wrong.
In my online Jazz Singers Academy you'll find everything you need to make progress fast.
With love,
Ilse Huizinga
Ilse Huizinga is a renowned jazz singer from Amsterdam, The Netherlands, and a coach to aspiring jazz singers around the world. Not just online. She actually travels the world most of her time. Ilse recorded eight albums to date and is listed in "The Jazz Singers, the ultimate guide" as one of the 500 best jazz singers of all times.
What you'll get
I'd recommend additional one-on-one vocal coaching for voice technique and feedback. But that's it. Everything else you can learn right here @ Jazz Singers Academy. It's a complete online vocal jazz program.
How to get that jazz sound & feel
How to get the most out of your repertoire
How to overcome technical challenges
How to develop your style
How to prepare to get carefree performances
How to communicate with a band
How to communicate with an audience
How to deal with stage fright
How to get your sound with mics & sound systems
How to make variations on the melody
How to improvise scat solos
How to get the most out of your talents
With the risk of sounding like a TV-commercial on a shopping channel: "but wait, there's more! If you order now, you'll also get…"
A daily routine to keep up your skills
A complete & practical music theory guide
50 tried & tested charts of popular jazz standards for the popular iRealPro* app
150 progressive sing-along exercises with instructions, music notation, audio examples and sing-along videos
iRealPro* files of every sing-along exercise
BONUS: 15 blues impros to get a feel and an ear for jazz blues improvisation.
* iRealPro is an app for iOS & Android. With it, you can view, edit or make great chord charts. And play them. You'll have a great simulated band to practice with. In any key, tempo or feel. Tons of charts can be downloaded for free via their forum as well.
Get unlimited online access to Jazz Singers Academy for just €125 ($149) including VAT. Simply hit the green "ADD TO CART" button below!
€125.00Add to cart
JSA is so clear to understand and immediately implement (a great confidence boost when learning something new). Whatever I thought I already knew is now being inspired to new depths & abilities I never knew I had. Thank you, Maestra Ilse!!
Adriane Callas
JSA member
I am so excited about Jazz Singers Academy. I've been searching for 6 months for something like this….So truly it is my vocal jazz answered prayer.
Simply wonderful! Great tool to grow as a jazz singer! Filled with Ilse's delightful passion and catchy enthusiasm. Love it!
Such a pleasure to follow these courses in my own time, in my own home, in my own tempo. It's beautiful that Ilse offers many different suggestions, just pick the one that suits you!
Thank you – from the bottom of my heart – for your highly personal approach!
Singing jazz no longer feels like climbing the Himalaya. Jazz Singers Academy has given me the confidence I can do it!
Congratulations on your courses. Splendid. YES, YES, YES this is what I need to make my singing be more and more pleasurable and give it some sort of structure. I am very impressed!
Jazz Singers Academy motivated me from the very beginning because everything is really organized, looks easy, is explained clearly and always with a big smile, which transmits positivity! I am so glad I became a member.
I'm overjoyed with these courses. Best gift I ever gave myself!!!